'He wanted to have this huge birthday party'
Willie K had dreamed of a big party for his 60th birthday. He had always enjoyed celebrating birthdays, and Willie wanted to make this year special.
"He wanted to have this huge birthday party," explained his sister Rae Kahaiali'i. "We were really going to do it up for his 60th."
The beloved artist will be honored Saturday at the "Uncle Willie K Virtual Birthday Bash," featuring a host of Maui's finest musicians performing between noon and 6 p.m. at Mulligan's on the Blue.
Because of COVID restrictions, the event is private and will be livestreamed on the official Willie K Facebook page.
During the afternoon, musicians performing include Pi'ilani Arias, Kaulike Pescaia, Na Wai 'Eha, Na Koa, Kaniala Masoe, Ata Damasco, Jesse Tanoue, Homestead, Kalani Pe'a, Amy Hanaiali'i, the Warehouse Blues Band, Avi Ronen, Arlie Asiu, Kaleo Phillips, Gretchen Rhodes, Mike Carroll, Dave Carroll, Danny Johnson and Damon Williams.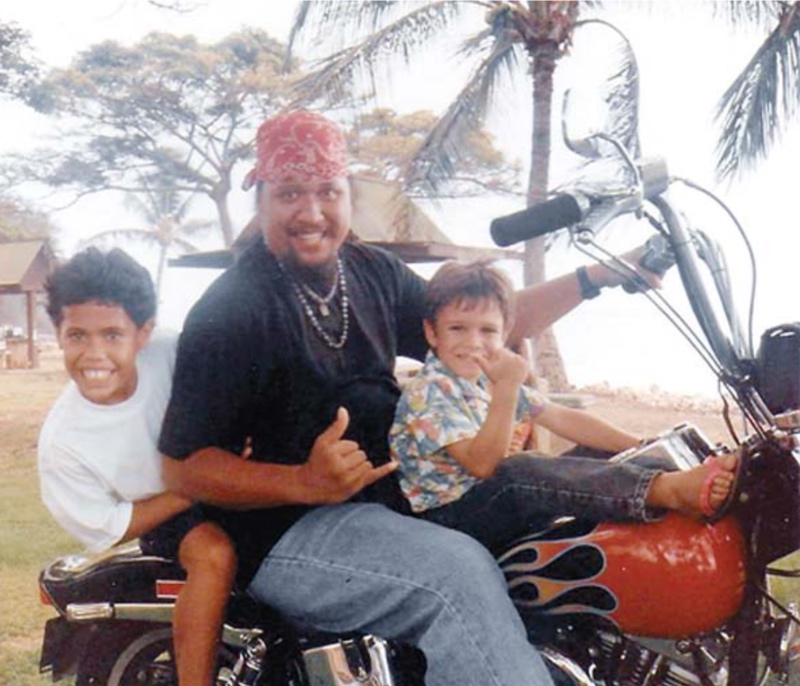 With Kathy Collins serving as emcee, the house band for the bash features Kaleo Phillips, Dane Patao Jr., Kana Pikini and Kamalani Puahala.
A number of hula dancers will perform including Pakalana Phillips, Pomaika'i Kahaiali'i, Melody Masoe, Tyra Masoe, Luana Kawa'a and Cierra Pagaduan.
So many musicians offered to play at the celebration that Rae Kahaiali'i, who organizes special events for Maui Tribe, explained they decided to focus on "people who played at the breakfast brunch and people who performed at the golf tournament, or events we've had over the years."
In between sets, viewers will watch films of Willie over the years, along with videotaped birthday wishes from fans around the world.
"We wanted to do something uplifting," she said. "We're trying to make it more family orientated, people who knew Willie before he was Willie K, as well as the ones nowadays."
Willie was a regular at Mulligan's, where he played at weekly dinner shows. The Wailea restaurant was the site of Willie's last live performance on Valentine's Day and also the kickoff venue for his first Bluesfest.

As a special moment during Saturday's show, Willie's last studio recording will debut. It features the legendary musician backing singer Gretchen Rhodes on Stevie Nicks' song "Leather and Lace."

"Willie wanted to leave her a gift," Rae Kahaiali'i explained. "He was hoping to give her at least one recording, and shortly after he ended up in the hospital."

Widely lauded as one of Hawaii's most remarkable musicians, in the months leading up to his passing on May 18, Willie also exhibited extraordinary resilience in the face of lung cancer, regularly posting upbeat video clips.

In one of his last videos, smiling, he said: "I have never lost my connection to God, I'm just a high spiritual person who never lost his connection to the highway. I like to live by three things, God, trust, and family."

"I think he wanted to leave a message and legacy for people that this is not the end, the end of life on earth is not the end, but make it the best you can," his sister said. "He's inspired so many people. I think the spiritual aspect came out stronger the more feedback he got from people who needed that. He wanted to make sure that he portrayed a positive side. He didn't want people who were fighting cancer to think they were doing it alone."

She said Willie joked about how he was going to leave.

"In his head he had 'if I'm going to go out, I'm going to go out with a bang.' He goes, 'Rae, it would be so cool if I died on stage, not for my fans, but doing something I love doing.'

"I go 'I don't think your fans would get over that.' "

From a young age, William Awihilima Kahaiali'i's musical talent was obvious.
"He was always dabbling in something different, not your normal musician," she recalled. "We never really listened to one thing, but Willie took it to a whole 'nother level. When he wanted to learn something he made sure he learned everything about it."

A master of every music form he embraced, if Willie took on a song he would perfect it — like the time his sister encouraged him to learn "Tennessee Whiskey," popularized by Chris Stapleton, about a man who was rescued by love.

"As sisters, we love country music," she recalled, "so when Chris Stapleton came out with 'Tennessee Whiskey,' I was like 'I need you to learn this.' He was like, 'what?' I go, 'this song is so awesome, but listen to the guitar break, you could so rip it.'

"I sent him the words, and he went to Lanai and came back, and he sang it at a brunch, and it was amazing. It became our thing, whenever we'd walk in a room, he'd sing 'Tennessee Whiskey.'

"He was like, 'why did you pick that song?' Because the lyrics fit you and Debbie (his wife). If you really looked at the story behind Willie and what Debbie brought him out of, it's a cool love story."

As far as favorite songs Willie sang, she singles out the classic opera piece "O Sole Mio," "Spirits in the Wind" for his original songs, and "Too Bad" from the "Warehouse Blues" album.

Interviewing Willie over the years, he was always excited about some new recording project he had in mind. You could imagine, like Prince, he had stacks of songs stashed in a vault (both artists shared a passion for music and a mutual appreciation). Some of these unreleased works could see the light of day in the not-too-distant future.

"We have so many recordings," she affirmed. "We could have volumes of records. I'm trying to put something together for Christmas, because there was supposed to be a Kalani Pe'a/Willie K Christmas concert at the MACC, and I still want to continue with the Bluesfest. Me and my sisters
are going to take our time putting stuff together and see how the public likes it."
The Uncle Willie K Virtual Birthday Bash will be presented on what would have been Willie's 60th birthday.
"It's really about celebrating his life and his birthday, with a lot of laughing and good music and a lot of great memories," his sister said. "They'll see a slide show of when he was younger with Da Buggas, the whole transition to the Warehouse Blues Band. It's important to continue his legacy of good works and music.
"I want people to walk away, that was beautiful, and they learned something about him, that there was more to Willie K, that people know our brother."
An official after party, open to the public, will follow at the Guava Tree Bar and Grill at 8 p.m.