By JON WOODHOUSE, For The Maui News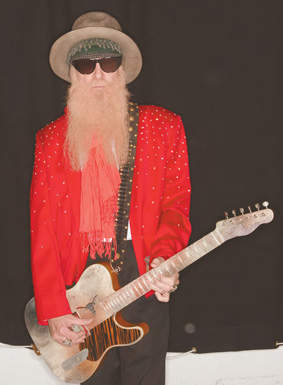 Willie K's first BBQ Blues Festival was one of the highlights of 2013, and it looks like the second annual event coming up on Jan. 11 will be even more memorable.
Featuring headliners Billy F. Gibbons of ZZ Top and Mississippi blues legend Robert "Wolfman" Belfour, along with some of our island's finest musicians, the festival will be presented outdoors at Maui Tropical Plantation's new Field of Dreams amphitheater.
ZZ Top's Gibbons is one of the finest blues-rock guitarists to emerge from Texas. "Ever since I was a little kid and first heard Jimmy Reed's 'Honey, Don't Let Me Go,' the blues has been in my blood," Gibbons told Music Radar. "I've definitely been an avid student of the genre my whole life."
Receiving his first guitar as a Christmas present in 1963, Gibbons taught himself how to play, listening to records by Muddy Waters, Jimmy Reed and Little Richard. Before forming the "little ol' band from Texas," with Frank Beard and Dusty Hill, Gibbons played with the group The Moving Sidewalks, which opened for Jimi Hendrix on his first U.S. tour. Hendrix was so impressed with the Texan, he once hailed him as America's best guitar player, and gave Gibbons his pink Stratocaster as a gift.
After forming in 1969, ZZ Top's third album, "Tres Hombres," earned the trio their first Top 10 hit. Sold-out concerts followed, and subsequent albums went on to cement the band's popularity.
In June of last year, the band released the 10-disc box set, "ZZ Top: The Complete Studio Albums (1970-1990)," which traced their development from a raw blues club act to a groundbreaking, hit-making powerhouse.


[box]
• When: Concert begins at 3 p.m. Saturday, Jan. 11 2014
• Where: In Waikapu, outdoors on new Field of Dreams at Maui Tropical Plantation.
• The lineup: Billy F. Gibbons of ZZ Top, Robert Belfour, the Tom Conway Band with bassist "Hutch" Hutchinson, the Bobby Ingram Band, the Mike Carroll Band, Kings of Spade, Lehua Kalima, RJ Kaneao, Willie K and other special guests.
• The cost: Tickets are $35 for 16 years and older, $10 for ages 10 to 15, and free for kids younger than 10. Proceeds benefit National Kidney Foundation of Hawaii. Request Music Willie Kloset in Wailuku and Lahaina Custom Guitars are outlets. Or visit www.williekbluesfest.eventbrite.com.[/box]
When it comes to living icons of blues, Belfour is the real deal. Raised in Mississippi's rural north, Belfour plays what he calls "Mississippi hill country music."
A Variety magazine review of his concert at the House of Blues hailed him as "the first great blues discovery of this century."
Born in 1940, Belfour had a sharecropper father, who played a resonator guitar in a style similar to Charlie Patton. When Belfour was 13, his father died, and he had to work to support his family. He got into blues by listening to some of the giants of the genre. He also learned different guitar tunings, including the "Spanish" open tuning variety, a popular option for slide guitar playing.
"I taught myself as a boy by ear," Belfour explains. "I'd hear records they'd play on the radio. I kept going, and I just got to where any song they played on the radio, I knew the chords on the guitar. Howlin' Wolf and John Lee Hooker inspired me more than any others."
Sounding like some raw, rare unearthed treasure, his music is characterized by percussive, repetitive riffs, a droning syncopated driving beat, and overt African rhythms reminiscent of Malian guitarists such as Ali Farka Toure.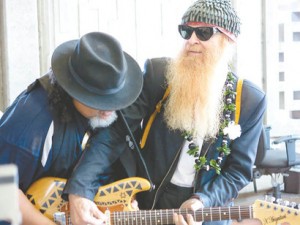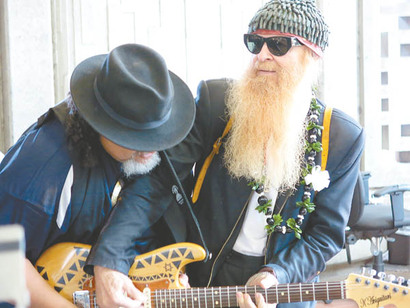 Widely acclaimed in Europe as one of the original American roots blues players, he was first "discovered" by Dr. David Evans, a musicologist at the University of Memphis in Tennessee. "Dr. Evans first recorded me and it came out in Germany," he continues. "He asked me, 'How did I learn how to tune in Spanish?' And I said, 'I don't know, it just come to me.' "
Living since 1968 in Memphis, where he worked construction for 35 nearly years, Belfour only began playing publicly in the early 1980s. Encouraged by his wife, he began performing in one of the city's parks and soon became a fixture in Beale Street's blues clubs.
"I would just sit around at home playing," he recalls. "I told my wife I ain't playing for no money. But I finally made up my mind to do that, and I played in Handy Park on weekends. People would put money in the bucket."
This extraordinary musician eventually came to the attention of a Mississippi record label, Fat Possum, which specializes in living music from this region. By 2002, Belfour had recorded his first domestic album, "What's Wrong With You," and its reception was so favorable that "Pushin' My Luck" followed.
Both were widely acclaimed. PopMatters raved, "Belfour produces stunning blues laments fueled by his sophisticated and clear guitar chops." And an Allmusic review of "Pushin' My Luck" concluded, "this record is amazing."
"People who have heard me have said they've never heard anybody play like that," he notes.
Willie K is especially thrilled that Belfour will play his festival. "I listened to his songs and I said, 'This is what a blues festival in Hawaii needs,' " Willie enthuses. "His style reminds me of Gabby Pahinui for Hawaiian music fans. We offered him a vacation on Maui for a week, but he said, 'I can't do vacations because I've got to do my gigs.' He's 74. He said, 'I'll play but I've got to leave the next day.' That's a blues man. It's going to be a real-deal blues festival."