By Wayne Harada for the Honolulu Star Advertiser.
When New Orleans and New York favorite Davell Crawford teamed up with Hawaii native Willie K Monday night (Sept. 12) at the Blue Note Hawaii club, expectation and uncertainty were common denominators.
Crawford and Willie were willing participants in a theoretical match — what happens when each dude, highly popular and versatile in his respective domestic marketplace. They met only hours before taking the stage together, so much of what happened was impromptu — trying to find a common bound, attempting to mine each other's strengths, searching for unity in the union.
Wow, what a collaboration! It worked? Perhaps the result was partly due to the unknown factor: how can two souls become one?
In the end, the combo deal was a certification of how music can yield commonality and define and link two diverse and creative spirits. It was a collective home run!
Both Davell and Willie are singers who are aware and imaginative entertainers; both include jazz as part of their impressive landscape; both work the house with and resourceful eyes and ears; both are equals in the art of improvisation, yet they make it all feel and unreel like a planned scenario.
All the while, they projected spirituality and energy of seismic proportions, which resonated with an audience that may have included first-timers at the opening gates, who become instant fans by the end of the final bow.
And so it was — on a memorable Monday chock-full of unforgettable footnotes: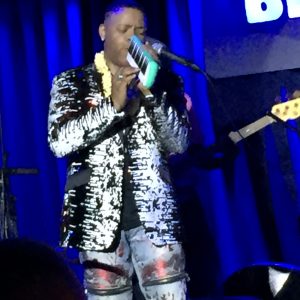 Davell, 41, a designated Steinway artist, manipulated the keyboards with flash and fury, his nimble fingers dancing across the ivories with controlled frenzy. It's blues, it's rock, it's jazz and more — and his added powerful vocals provided fireworks and sizzle. No wonder he's known as the Piano Prince of New Orleans in The Big Easy.
Willie, 55, is equal parts guitarist and ukulele strummer, with a pliable and potent voice that never disappoints and always astonishes. While he came equipped to dazzle mostly with his electric guitar, he didn't have an ukulele handy, so moments before showtime, he ventured into the uke shop on the first floor of the Outrigger Waikiki Hotel and purchased a spanky newbie, breaking it in like he had previous communion. He rocked, he rolled, he threw in some localisms for good measure, receiving hurrahs and hoots of approval from his retinue of local fans. Assuredly, he's everyone's Uncle Willie with breezy theatrics.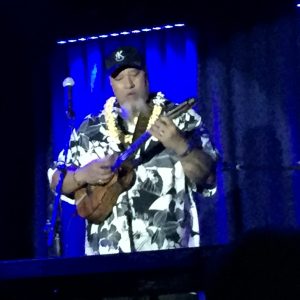 Obviously, the gig largely was a test of will and desire, of chance and experimentation, of sharing and comparing. If you think of the showroom as a blank canvas, Davell and Willie added the tone, the textures and the hues with idiosyncratic maneuvers that resulted in a visual and aural portrait of their inner musical souls.
While there were more tunes not commonly on people's playlists, like Willie Dixon's "29 Ways," which might have been attributable to geography. There was evidence upon evidence — while Davell resides in New Orleans but regularly works in New York, and he travels extensively to European ports. Hence, his scope may be international, so repertoire may not be a common denominator. But there were classics that were iconic when Davell uncorked George Gershwin's "Porgy and Bess" classic, "Summertime," rendering a bluesy and soulful piece with undeniable insinuation of its Southern and operatic roots; Willie chimed in with guitar riffs, adding punctuation and framework to enhance the percolating mood. And — here's where this became an expression of two jazz giants — there was an extended, expanded impromptu jam that went on seemingly forever, with scat singing in-between the alternating piano and guitar solos. This brand of enabling musicians to build upon a tune with style and imagination is characteristic of greatness in jazzdom; you don't necessarily need lyrics to progress a storyline.
Frequently, Davell bellowed to his listeners: "Somebody say yeah!," kind of a cue to make the musical ball roll and bounce. It felt almost like being in a Nawlins speakeasy rather than a Waikiki club, but no matter: the performance loved it all.
When Willie unpacked the obvious "Over the Rainbow," with his trademark vocal dynamics, he put broad blue strokes in delivery. Midway into the song, when he realized he didn't have his trusty instrument, he quipped: "I feel naked without my guitar."
As a result of the Davell-Willie experiment, there will be more camaraderie and connections in the weeks and months ahead, pending scheduling issues. Willie wants to invite Crawford to sit in on one of his Maui gigs; Crawford is committing to confirm Willie for one a New Orleans bluesfest next year. The bottom line: they've found common ground and want to cultivate and grow the ties that will expand both appeal and adoration in each other's home base.
Imua Garza, a local musician, had a late-in-the-show cameo, singing and strumming with spirited joy. It was a smooth debut for him, and perhaps he might earn his own Blue Note slot down the line. Imua, bro!
Not everything was perfection, however. The first of two shows had irritating moments: an errant microphone, with screeching and jolting feedback; and off-cue spotlight miscues that left Davell or Willie in temporary darkness or with shadows on their faces.