Monday, Jan, 7, 2013; 5:17 PM; – by Movies News Desk  for movies.broadwayworld.com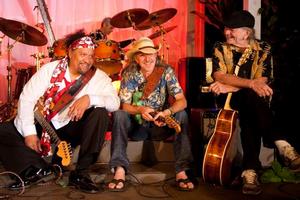 GET A JOB," the award-winning motion picture comedy produced entirely in Hawaii which stars Willie K, Eric Gilliom, Augie T, and many of the island's top entertainers and musicians, released to DVD on November 1, 2012. The Motion Picture Soundtrack by the Barefoot Natives also went on sale November 1st. Watch the latest trailer below!
Produced entirely in Hawaii by islanders, the ground breaking feature film has screened successfully in theaters throughout Hawaii, on the mainland, and in countries such as Spain, India, and Cambodia. On the Film Festival circuit, "GET A JOB" won top prizes in many of the Festivals in which it screened.
GET A JOB" stars Willie K, Eric Gilliom, and Augie T, with a cast and crew of over 300 islanders including Jake Shimabukuro, Carolyn Omine (writer for TV's "the Simpsons"), Henry Kapono, Amy Hanaiali'i, the late Charles Ka'upu, Ernie Cruz Jr., Kealoha, and Kathy Collins.
Mick Fleetwood, Willie Nelson, and Pat Simmons of the Doobie Brothers also make cameo appearances in the wedding band. Author and sports broadcaster Raymond Rolak makes a cameo as the surf student.
The movie was written/directed by Brian Kohne, and produced by Stefan Schaefer. The music in the movie really shines, as exemplified on the Barefoot Natives "GET A JOB" soundtrack CD.
For more information, visit www.GetAJobMovie.com.