From Midweek.com > Old Friends Nov. 09 2011
Willie K
by Chris Fleck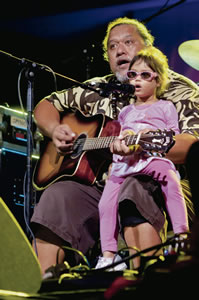 At a recent performance on Maui, a fan told musician Willie K (pictured at left with daughter Antoinette) that what impresses him so much is that he is constantly reinventing himself, a comment that Willie K couldn't have agreed with more.
"You know, I think I have really evolved into a human musical library over my career. I mean right now I am working with some friends on Maui combining world musics like Bollywood and Italian music mixed with Hawaiian. We are combining these genres of music and it's working, people are diggin it," says Willie K who was featured on MidWeek's cover Sept. 7, 2007.
Willie K also knows that if it wasn't for the musical support he received growing up in school he most likely wouldn't have developed a career in music, and that is one reason why he does what he can to support the mission of Hawaii Youth Symphony.
"I was in band from sixth grade through my senior year in high school. These kids need a place to go. My mission is to make sure these kids have a place to go and that HYS continues," says Willie K who will be performing with a barrage of musical talent at Hawaii Youth Symphony's annual He Makana O Na Mele (The Gift Of Music) fundraiser Nov. 20 at Hilton Hawaiian Village.
"This goes well beyond ukulele and the steel guitar. Piano players out there need a place to go and express themselves, and horn players and those interested in flute, clarinet, trombone, you name it. We have so many talented individuals that need our support." This year the He Makana O Na Mele fundraiser, titled Swingin with Willie K. . . and all that Jazz, will feature musical accompaniments from some of the best in the local jazz scene including Dean Taba on bass guitar, Noel Okimoto on drums and vocals by Ginai.
A very special guest will also be joining Willie K at the fundraiser. He and his 3-year-old daughter Antoinette will sing their rendition of the Mary Poppins tuneLet's Go Fly A Kite.
Willie K, who has played with legends like B.B. King, The Commodores, Prince, Willie Nelson and Mick Fleetwood, is asking for everyone's support, "If you don't come out and see it, you're definitely going to hear about it," he adds.
For more information on He Makana O Na Mele fundraiser or HYS, visit hiyouthsymphony.org.