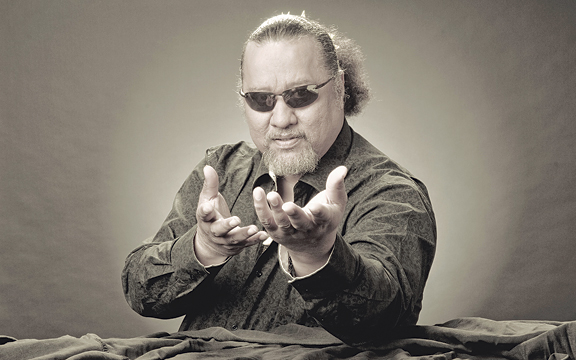 BY STEVEN MARK / original article at the Star Advertiser. The remarkable musical career of Willie Kahaiali'i — known as Willie K — spans a range so broad it seems to reach from the deepest bass to the sweetest soprano. From traditional and contemporary Hawaiian to blues and rock, he's done it all and done it well. But lingering inside his ample abilities has been another voice: opera.
"To tell you the truth, I was a Mario Lanza fan at the age of 8," he said, referring to the singer whose voice and charisma propelled him to Hollywood stardom in the late 1940s and early '50s and inspired a legion of singers, including the "Three Tenors" — Luciano Pavarotti, Jose Carreras and Placido Domingo.
"My father turned me on to the movie '(The Great) Caruso,' which starred Lanza as the lead actor," Kahaiali'i said. "I never forgot it. I've only seen it once, but it left a mark in my soul, I guess you could say."
Kahaiali'i, a multiple Na Hoku Hanohano award winner for his work in Hawaiian music, will bring that passion to the stage this weekend in a repeat appearance with the Hawaii Youth Symphony. The benefit concert, called "He Makana O Na Mele: The Gift of Music," which includes dinner, promises to be broadly entertaining, with the classic "Nessun Dorma" (a love-stricken singer, facing death, proclaims victory) and the peppy "Funiculi, Funicula" (about a cable-operated train) on the program.
KAHAIALI'I'S longtime interest in classical singing was encouraged by some of his fans who noticed the effortless power of his voice They suggested he try the famous aria "Vesti La Giubba" from "Pagliacci," which Lanza sings in "Caruso."
"I would say, 'Oh yeah, I love that song,' and they would be surprised that I even know what 'Pagliacci' is," Kahaiali'i said. "It's not like it's never been there; it's always been there, but I never thought I'd use it onstage until five years ago."
That was when interest and opportunity came together in perfect harmony for Kahaiali'i.
He had begun looking up opera performances on YouTube when he signed up his daughter for piano lessons with Vania Jerome, a music teacher at Maui Preparatory Academy.
Then the singer discovered that Jerome had worked with many top opera stars in the 1990s in Los Angeles, a time when the city's opera scene was coming into its own, and asked for some guidance.
Jerome said she suggested that Kahaiali'i focus on Pavarotti's style and repertoire.
"He came back the next week, and it was a breakthrough," she recalled. "The range had opened for him up on the top."
Beyond that "there wasn't a whole lot I could tell him in terms of technique," said Jerome, who has worked with Kahaiali'i on details of diction and interpretation.
"With Willie, he's just so in tune with his instrument. There's not really a whole lot of thought that goes into it. He just does it. It's very natural. He's just talented and gifted that way."
Kahaiali'i had performed with the Hawaii Youth Symphony many times by then, including one concert where he hit a high C while singing "O Holy Night."
"That ignited the crowd," said symphony conductor Henry Miyamura.
Miyamura later told Kahaiali'i, "Some opera tenors would give their right arm for your high C." Kahaiali'i replied that he was studying Pavarotti's singing, which led to a concert of opera arias. That concert will be repeated with a couple of additions for this performance.
Kahaiali'i has taken his operatic singing beyond the notes. He's consulted some of Maui's Italian expatriate community — he's friends with the owners of Casanova restaurant and Fabiano's Bakery and Pizzeria — for advice on the Italian language.
"They brought over their families from Italy to hear me sing," he said with a laugh. "They brought their mothers and aunts and uncles, and they always bring mostly the women, because the women will step right up on stage and say, 'No, that is not correct.' … They'd tell me, with the enunciation, 'You're crossing over from Genoa to Naples, so you gotta pick your district.'"
IS AN OPERA career in the making? Miyamura believes that if Kahaiali'i had started younger, he would be a star tenor in the international opera scene by now. Jerome said male singers often don't fully develop until they're in their 40s and that they stay at their peak for many years afterward.
Kahaiali'i is 52 and said if offered a role in an opera, "I'd give it a shot." He's already had experience with acting, having starred in the comedic film "Get a Job" (recently released on DVD), with a sequel, "Get Another Job," possibly on the way.
For now, performing with the youth symphony has been a great benefit for both soloist and orchestra.
Miyamura said Kahaiali'i has been an inspiration to the young musicians, showing them to "go beyond what you're capable of."
Kahaiali'i, who played several wind and brass instruments as a youngster, said he considers working with the young musicians "a blessing" and an unexpected twist to his musical destiny.
"For me the greatest part is I remember when I was in band and I tried out for the youth symphony. I never made it, but I made it another way: fronting the symphony," he said with a laugh.